The Loom and Spinning wheel:
When entering the Barns third room you will see the Loom and the Spinning Wheel to your right. The coverlets displayed were woven between 1860 to 1889 back east and came across the country on covered wagon. Looking past the Loom and Spinning Wheel you will spot an old Permanent wave machine that appears more like a torture device, but was used for curling women's hair during the 1920's. As you continue to come into the room you will also see an old stove below the Permanent Wave Machine, early hand pumped vacuums, and a Singer treadle sewing machine . To your left where you just entered you will spot an old automated 1915 Maytag washing machine produced sometime around 1907.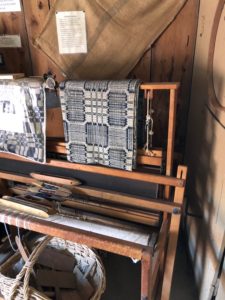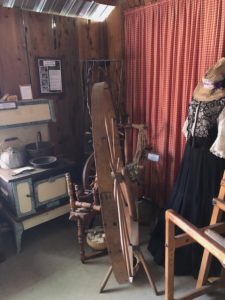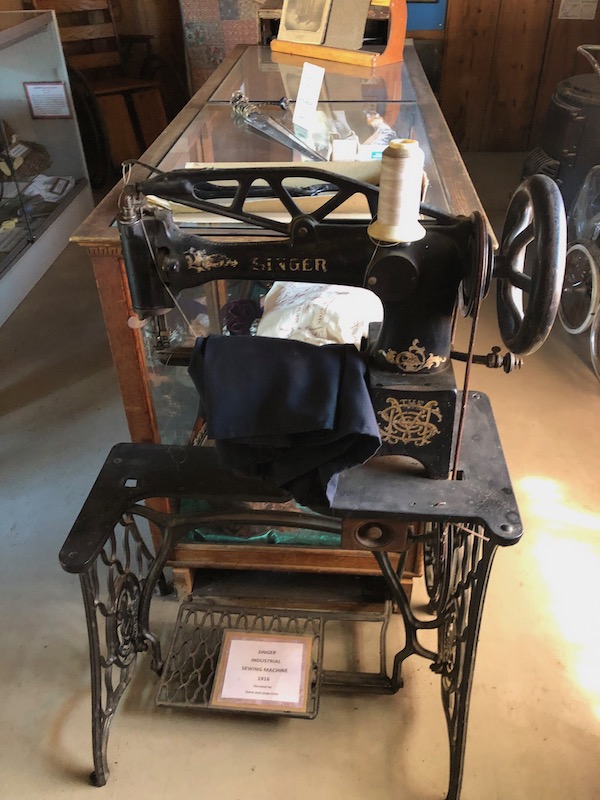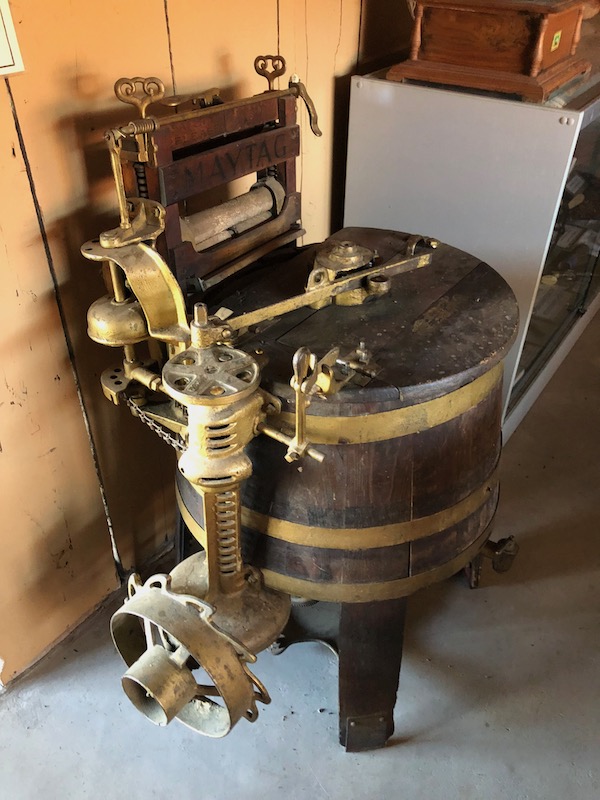 Raymond and Knowles:
On the south wall you will find historic pictures of Raymond and Knowles. 
Raymond
Raymond was an important location for those traveling in the early 1900 into Yosemite. The town was named for Mr. Raymond who was a travel agent with offices in Boston and San Francisco and sold tours into Yosemite. The travelers came to Raymond riding trains and stagecoaches. From Raymond the tours took stages, not stagecoaches, because the stagecoaches held the dust inside. The stages were wagons with benches and a top. The sides dropped down to protect passengers if the weather turned bad. (One may be seen at the Wawona Pioneer Village.)
In 1903, Teddy Roosevelt visited Raymond on his way to Yosemite. He can be seen at the old Raymond Bowen Hotel giving a speech on a picture on the Wall. They took (now) Road 600 to Ahwahnee, where they had lunch and then old roads that came out at Fish Camp and went on to Wawona. This was a 12- hour trip. This was the famous trip with John Muir that ended with the expansion of Yosemite becoming a national Park.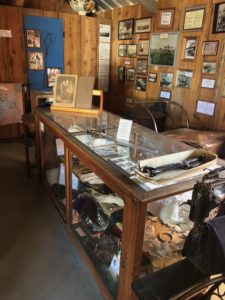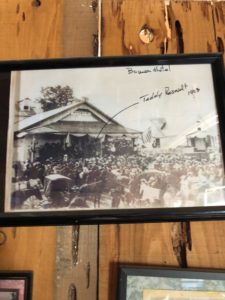 Eventually, in 1907 a railroad was built to take passengers from Merced to El Portal, just outside the west gate to the park – much easier than Raymond and much less hassle!
Knowles
Knowles is the location of one of the many granite quarries that were in this area. The one at Knowles is still in operation and produces "Sierra White", some of the finest granite in the world. Pictured are some of the buildings constructed with this granite – San Francisco Post Office and City Hall, Hibernia Bank (SF) and Los Angeles City Hall. The slabs were shipped by rail at one time. Also in Knowles is the Hills Pride Inn, the second oldest bar in California still in business; and St. Anne's Church, a granite structure originally built as a school.